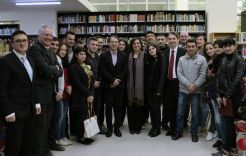 Mrs. Milena Harito, Minister for Public Administration and Innovation, who was invited within the cycle "Brownbag Seminars", held an open lecture to students of the Department of Law on the subject: "The reforms in public administration, a precondition for membership in the European Union".
The conversation with the students took place in several stages; initially Mrs. Harito acquainted the participants with the competencies, structure and institutions dependent on the Ministry. Then she made a brief description of specific reforms undertaken in public administration at the service of the EU accession process.
The activity continued with numerous questions by the students who expressed their interest in fields such as: replacement of administrative staff in accordance with the respective governments, the vision of the ministry for the future, the possibilities created by the ministry for the labor market and specifically for young professionals and the impact of the membership process in the functioning of the Ministry.
During the visit to Bedër University, Ms. Milena Harito was accompanied by the rector of the institution Dr. Ferdinand Gjana who among others introduced to Mrs. Minister the museum of Media and Communication.