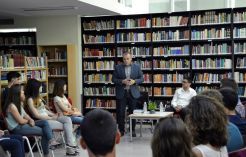 The next guess of "Brownbag Seminars", a series of seminars organized by the student club "Bedër Law Academy", was Florian Kalaja, the Judge in the District Court of Vlora.
During the conversation with the students of the Department of Justice, Mr. Kalaja shared his views about the "Trial in absentia in civil process" which was the theme of the activity.
Having made a general introduction to his book of the same title while explaining the main problems encountered in civil proceedings related to the trial in absentia, he stressed that the current provisions regarding trial in absentia in the civil process observed several violations of constitutional principles and general principles.