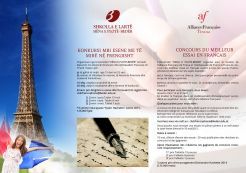 The contest for the best essay in French language organized by the University "Hëna e Plotë" Bedër in collaboration with the French Alliance and the French Embassy of Tirana.
This competition is open to:
a) All young people aged between 15 to 25 years;
b) Secondary school students, of French Alliance and francophone students.
10 May 2015, the deadline for the admission of essays
20 Maj 2015,
publication of results and the winners of the contest
Essays along with the registration form shall be submitted by e-mail at:
[email protected]
1) First prize, 10 inch Tablet
2) Second prize, 8 inch Tablet
3) Third prize, 7 inch Tablet
*
The participants of the contest will be awarded with 3 encouraging prizes such as "Hachette" dictionary, 2015 edition, having 125.000 words.